Markus from POF is a fucking weirdo and his site reflects his views about women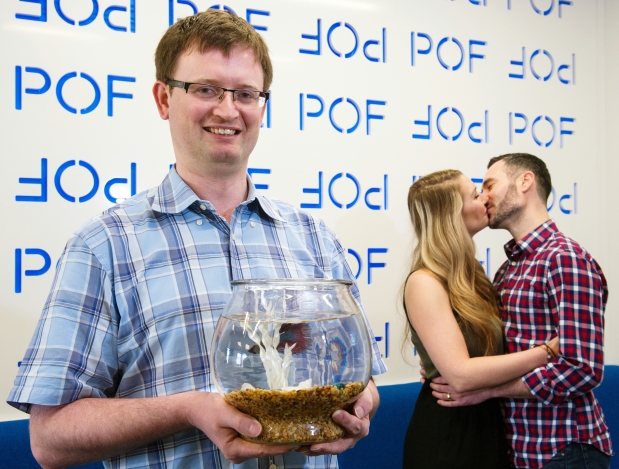 So this goofy-looking fuck is rich. Glad we got this out of the way. That aside, he knows nothing about women and his spergy white-knight beliefs come through everywhere in the site (POF.com).
This rant comes from my experience today. So a few years back they announced that you couldn't message people who were 14 years older or younger than you. In the fine print it said men over 30 couldn't message women under 23. Yeah ok cool.
My age on my POF profile is 28. On the search pages I have the option of selecting 18 as the lower age limit. UNTIL I PRESS SEARCH AND GET MY RESULTS! The sneaky fucker has programmed the software to automagically reset to 22 once you press search, no matter if you select 18, 19, 20, or 21 as the lower limit. This is completely ridiculous as 21 year old women are perfectly capable of handling themselves -- they can drive a potentially lethal automobile, serve in the armed forces, vote, and own a firearm. They are also very skilled at NOT replying to messages they don't like and BLOCKING whoever they choose.
I get it that he wants to make the site more appealing to women and "older" men who talk to younger women are often called *creepy* but 28 talking to 21 is totally normal, natural, and healthy. Maybe he did it as a defense against older guys who made younger profiles to get around the age difference and now they have to make a profile that says they are absurdly young to slip by.
I wouldn't have written this out if that was all there is to it. His complete lack of understanding of the female psyche goes deeper than that.
I made a new profile that said I am 20 just to see. The default age range for search is 18-22. He's sending out the message that this is what is good for you, this is what's healthy. But there's more Markus weirdness.
When I was filling out the "personality survey" style questions I noticed that they were all written a certain way and were repetitive in a certain way. The repetition and subtle rewording of psychological tests in general is deliberate in that it makes it much harder to deceive when you've answered 17 versions of the same question over the course of 200+ questions. You forget how you've answered and the really good ones don't give you the option or the time to go back and check.
The way his were written struck me as odd and out of touch. First, I realized that either he wrote them himself or paid someone to write them following ONLY self-reported survey information and data. Women don't understand themselves well enough much of the time to answer accurately on self-reported surveys, AND, on top of that, they are always thinking of what answer they SHOULD put down to put themselves in the best light, to project their ideal selves.
Second, I realized that even though he has shit tons of data on who clicks on whom, who responds to who's messages, ages, races, geographic location, he has ZERO real data on who actually gets it in, who is in a real relationship, who is monogamous, etc. He only covers the surface level and even then his interpretation is colored by his weird outlook.
He then builds and refines his site, preferences, search, and MATCHING ALGORITHMS off of girls humblebragging and snowflaking and whining, combined with terrible data. The man has become wildly successful yet doesn't know a fucking thing about girls. Un-Fricken-Believable!! AND, his bizarre beliefs shape other people's behavior and outcomes DAILY!!
TL;DR: Nerdy white knight weirdo builds worldwide dating website off of shitty assumptions and bad data imposing his own beliefs on the users without knowing anything about women.
Thu, 07/16/2015 - 15:47
#1
Yeah nailed it, thx for
Yeah nailed it, thx for writing this.
He had the.. NUMBER #1 "hookup" site in the world, then ruined it. As soon as he started fiddling with it the experience started going down. He's lucky he got out now.. at $575 fucking million dollars. Ass
I've been okc'ing the last year or so just to fuck around, my heart's not in the online game anymore, Marcus really did a number on Pof it was never the same plus I just fucked this beautiful biker model chick she's laying naked inside I'm out on the patio of her tower suite. Ain't nobody got time for online bullshit!