Reviving a Poor Initial Interaction - Last Resort
Hey fellas,
So before anything, I want to mention that I RECOGNIZE I fucked up the initial encounter with this chick, and that I am now trying to make up for a poor first interaction (at least IMO).
Long story short - my roommate had a couple 9s come over at like 2 AM or so - one of whom he fucked already, and the other her close friend. These girls have a reputation for being sleezy (I'm cringing already...). They're not exactly the brightest chicks socially, although mine is pretty fucking book smart funny enough.
I basically came home frazzled after being at the bar for several hours, and was a bit drunk/on adderall, so I'm just talking a ton and not really thinking so much. I figured it would be fun to try a different angle with this girl for fun, and create some backstory of having dumped a 5 year girlfriend, etc, and just had a decent conversation with this chick for about 2 hours. Before I know it, it's 4 am, and I basically still have NOT even tried to KISS this chick. Friends come up, blah blah, she's tired as balls, and I just crashed afterword. Let me mention it was her and I alone in our living room. Writing this out is haunting my soul, lol.
I realize I should've just grabbed her hand, kissed her, and lead from there. Hell, even TRYING SOMETHING would've been better than rambling on and on. The feeling of regret is brutal...will never make this error again.
Next morning I grab her number, tell her we should grab some drinks sometime.
Our texts (I didn't want to be too chatty with her, figured it will be okay to keep texting to a minimum and just meet up eventually, perhaps I don't want to come accross as too try hard/desperate to meet her...):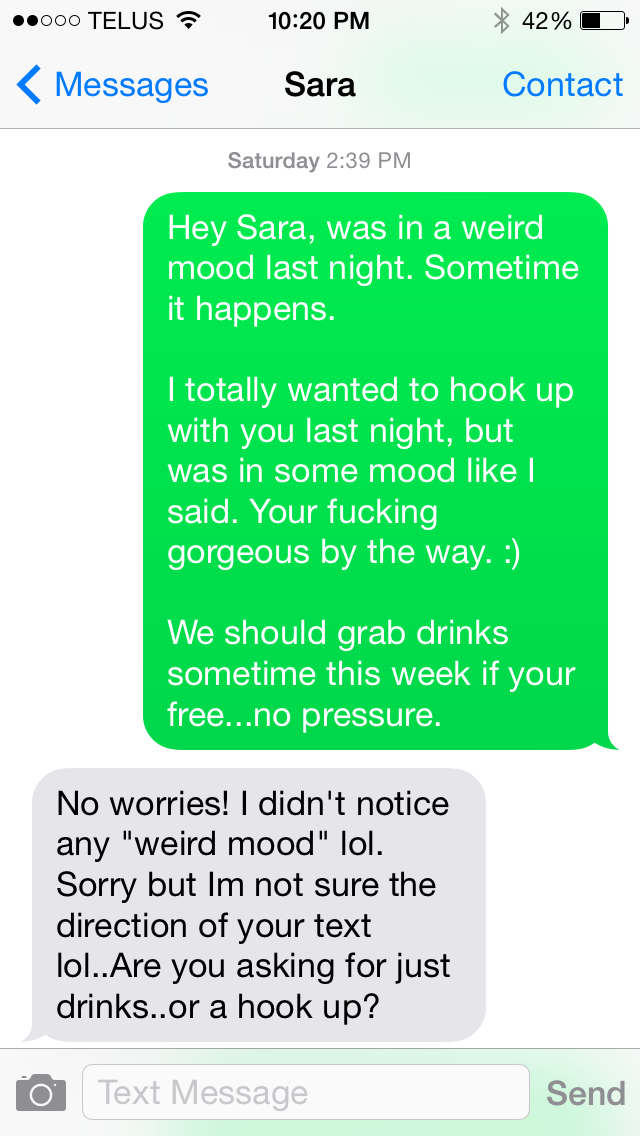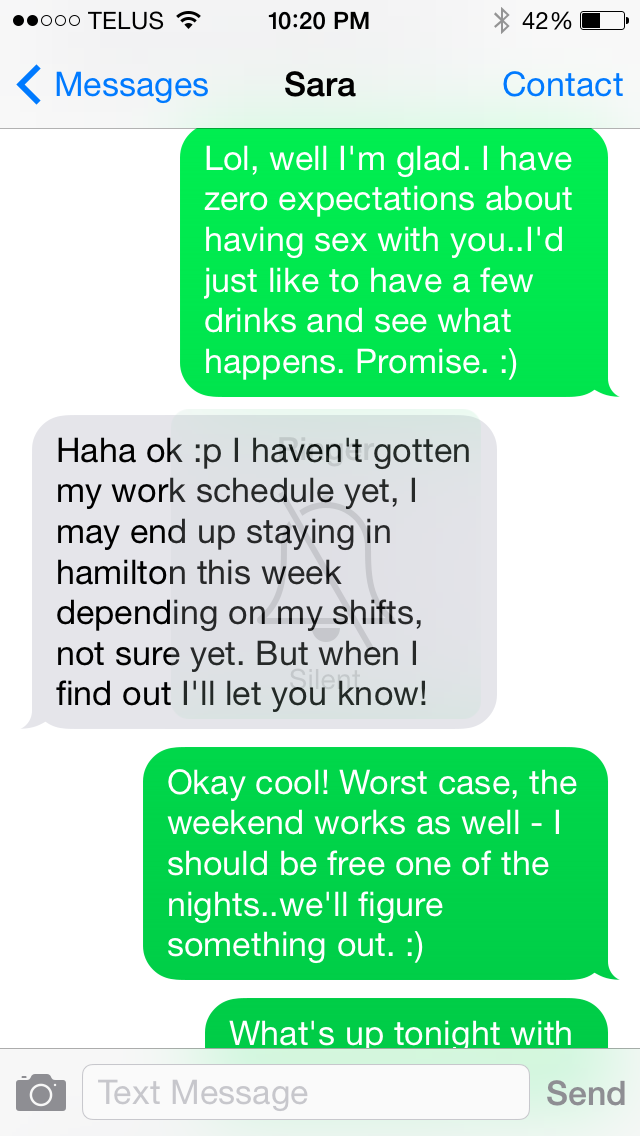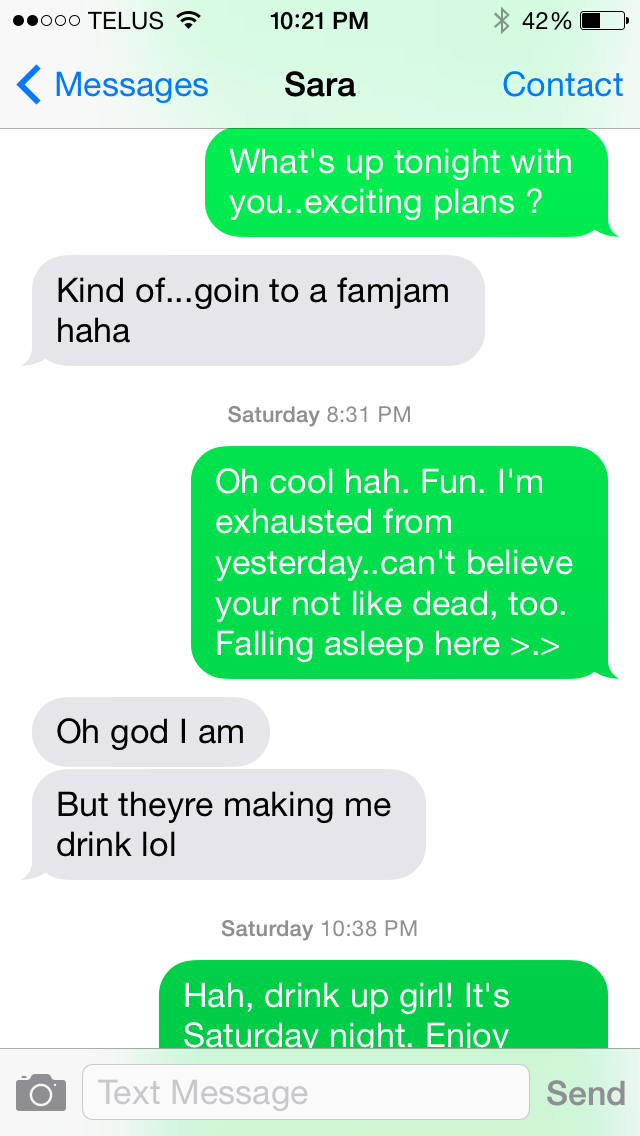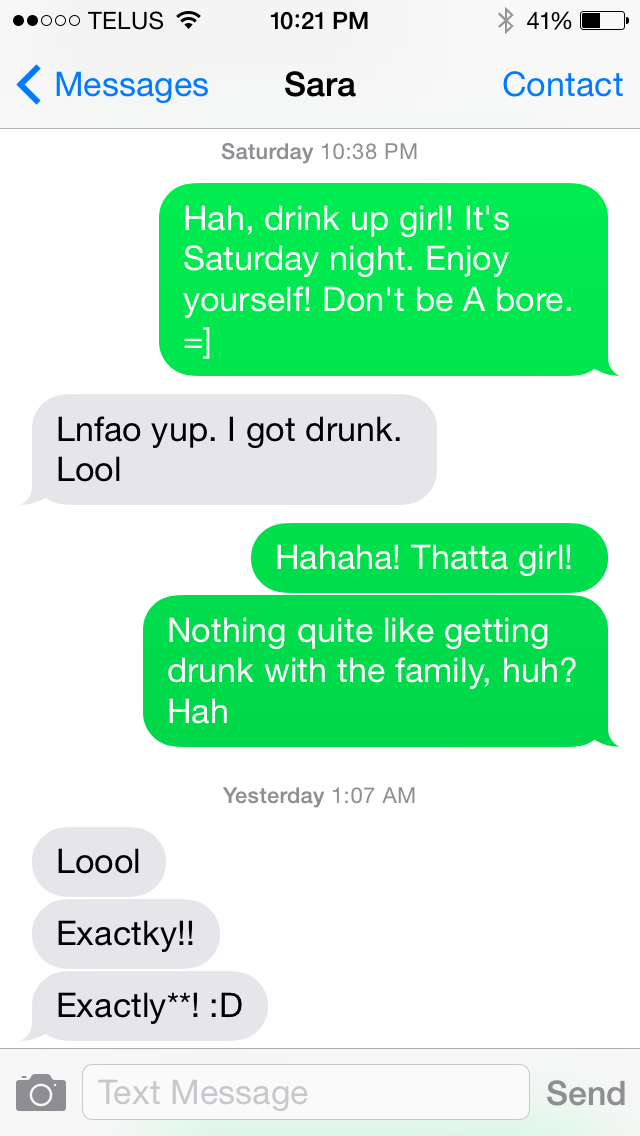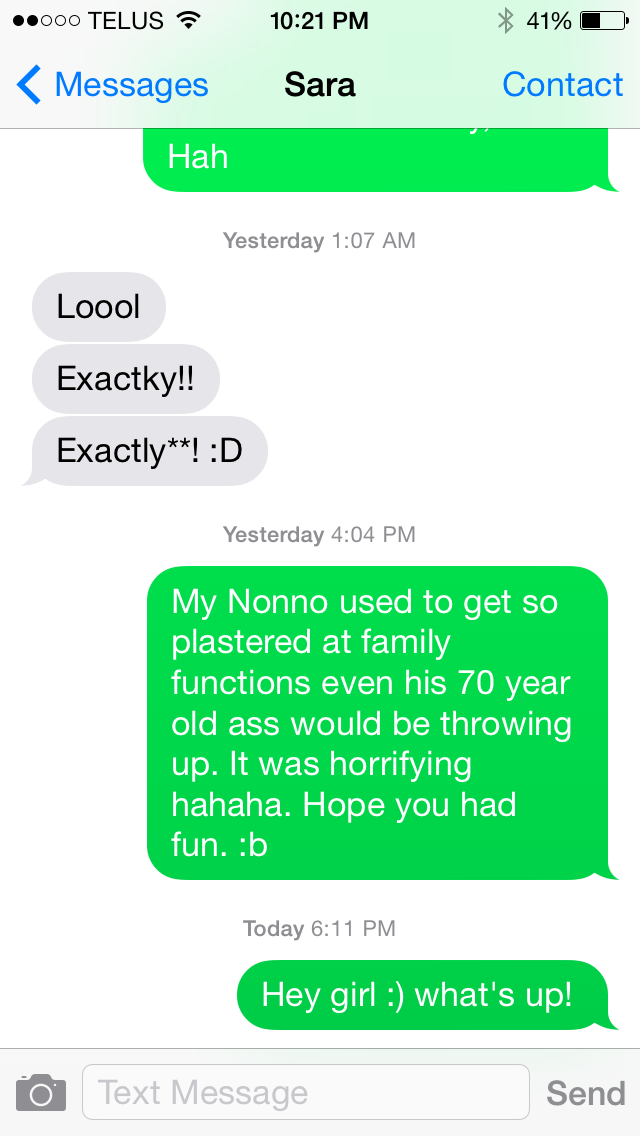 Something my room mate just reminded of .... these girls are very likely to come party with us again, the one in question for me having broke up with a bf a few months back after a number of years..could be on the market for a bit.. perhaps playing some super bold "do or die" type of thing wouldn't exactly be neccessary as I'll probably see her again in the future. Who knows.
Looking for some opinions on moving forward - any thoughts welcome.
Cheers.
Tue, 07/22/2014 - 05:01
#1
Okay yeah this is a very
Okay yeah this is a very common habit when drugs/alcohol are flying around, basically you let what feels like an almost godly state overtake your logical mind to the point of you just wanting to talk or hash things out instead of actually moving things forward. My critique on the initial texts are why even bring it up that you were acting weird? That's fucking weird lol. After that, pretty rudimentary texts but you kinda jumped at the chance to hang out with her. You're showing way too much eagerness for a meetup and not solidifying any sort of rapport or back and forth. I try to stay away from initiating conversations with "hey what's up" type texts. Imagine how many of these a 9 is getting per day.
Wait a couple of days and reinstate with:
"I'm so done with this whole "traffic" thing. Soon they'll be building highways for me"
or
"Just got you to open your phone for no reason. Looks like I got you in check ;)"
you out need to blast this girl with some value and a little oomph or shock to get her responding.
You you may not nail this down but it's a solid learning experience. Always be leading