Stretches for Extremely Tight Shoulders
Been experiencing a terrible amount of pain in my shoulders. Not sure where it came from and it's not a constant pain or pinch, but it happens when I lift my arms high above my head. It's gotten to the point where they just feel extremely tight.
I can't even take my shirt off normally from the front. I gotta take it off from the top behind the neck and sort of pull it over....
Any stretches that would help me get that flexibility back would be awesome.
Mon, 11/24/2014 - 01:06
#4
Best stretch for shoulder in
Best stretch for shoulder in my opinion. My Muay thai teacher find it the best ever and we talk UFC fighter here.
You do both version supination and pronation, meaning you just change the way you grab the pull bar, palm toward you and the other way (I hope it's clear).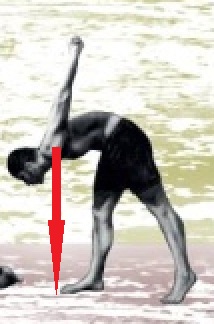 Left feet in the front then Right feet in the front.
I use my magic Ms Paint skills to indicate where you should let your weight go. Of course you stretch following the fundamentals:
Deep breathing.
Visualize Eyes closed the muscles getting loose.
And you block the reflex of contraction and completely let go.